Reserving a Space
Read the event and meeting or studio space descriptions below to decide which space best suits your event or meeting and find the reservation process for that space.
Huddle/study rooms, large event spaces (Chevron rooms, lobbies), and outdoor event spaces (green spaces) are reserved through Zachry Event Management System (EMS).

Students can put in reservation requests for all large event spaces, lobbies and green spaces on or after the following scheduled dates: May 1 – students may request for the summer, July 1 – students may request for the fall semester, Dec. 1  – students may request for the spring semester.
Students can book huddle/study rooms up to 14 days in advance. Please do not email Zachry events or facilities requesting these spaces outside of this time frame.

Faculty/staff meeting spaces and learning studios are reserved through request using the Meeting Space Request Form.

Requests for learning studios will not be accepted until after the 12th class day each semester. Please resubmit your requests at that time.
Note: Learning studios are not designated for individual or small group study. Please do not submit requests for this purpose.
Important notes regarding use of rooms
---
Zachry Event Management System
The Zachry Event Management System (EMS) allows faculty, staff and students from the Texas A&M University College of Engineering to book space in the Zachry Engineering Education Complex for study sessions, meetings, events, etc. The reservation website can be accessed at any time, from anywhere, both inside and outside the campus firewall, and on your mobile devices.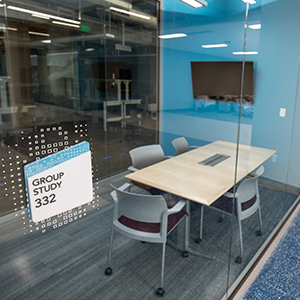 Reserve a large event space or huddle room in the Zachry EMS
Instructions
For instructions on how to use the Zachry Event Management System to book spaces, please see our Quick Reference Guide.
Large Event Space Descriptions
The Chevron Studios 297-299 encompass 5,645 square feet of multipurpose space for meetings, guest lectures, receptions and banquets. With adjustable air walls, the space can be broken up into three separate meeting spaces to fit a wide variety of campus uses. Each room features a large projection system and built-in sound equipment to enhance presentations, awards ceremonies and meetings of all sizes. Maximum capacity varies according to setup needs, but each room can fit a maximum of 48-68 people with tables or up to 100 without tables. When combined, all three rooms can accommodate 176 people with tables or up to 300 without tables. All setup and teardown is the responsibility of the user. If you'd like to hire Rudder Theatre Complex to set up for you, contact Amanda Rogers at 979-845-8903.
The HPE Tech Deck is a roof-top green space located on the fourth floor of the Zachry Engineering Education Complex. With shaded seating, luscious greenery and sprawling views, this space is perfect for gathering, studying and relaxing. This space is well suited for receptions and informal gatherings, weather permitting.
The Engineering Quad (E-Quad) is conveniently located between the Zachry Engineering Education Complex, Wisenbaker Engineering Building, Dwight Look Engineering Building and H.J. (Bill) and Reta Haynes Engineering Building. The E-Quad is a beautiful outdoor green space to meet, relax, eat and study. Throughout the E-Quad, you can find 50 favorite equations engraved in the pavement that were selected by our students, faculty, staff and former students. The E-Quad features shaded seating areas, park-like benches, Wi-Fi, space for food trucks and a mixed media sculpture.
Located on the first floor, the Virginia Brown Atrium is often the first space welcoming visitors into the building. The atrium features plush seating for relaxing, hard-top tables for studying and tons of natural light. This space is well suited for receptions and informal gatherings.
The ConocoPhillips Atrium, located on the second floor, is a great space for receptions and academic displays. With Starbucks just steps away, it's also a popular spot for study groups and friendly gatherings. This atrium features wide hallways and close proximity to the largest indoor event space in the complex, the Chevron Studios. This space is well-suited for poster sessions, receptions and informal gatherings.
Graham Plaza, located just outside the Chevron Studios and the ConocoPhillips Atrium, creates a grand entrance into the building. With shaded seating and ample hardscape, the space is perfect for large gatherings or peaceful studying, weather permitting.
ZACH 100B, located on the first floor near the south entrance, features a large planar wall.
Reserve a large event space in the Zachry EMS
---
Learning Studios
Important notes
No food or drinks are allowed at any time, including bottles of water.
Furniture and equipment in the learning studios is not to be moved at any time.
First priority is scheduled classes. After the 12th class day, please submit requests at least 72 hours in advance (excluding weekends, holidays and business closures).
Learning studios are not always available for many reasons, such as technology updates, facility repair, other preparation arrangements, etc.
Engineering faculty, staff, and accredited/recognized student organizations can submit a reservation request for a Zachry learning studio.
Individual access is not granted to learning studios:

Access is only granted for scheduled events, at which time the doors are scheduled to "open" and "close" according to the approved request information.
Include prep and tear-down/clean-up time in the time of your request.
Ensure the doors are closed and everyone has left when your event is over.

Learning studios prioritize classes throughout the week and have limited availability during the normal class hours for meetings or other events.
To request a learning studio, please use the link below.
Request a learning studio reservation
Faculty/Staff Meeting Rooms
Important notes:
Students cannot book faculty/staff meeting spaces at any time. 
Faculty/staff meeting rooms available for reservation and (capacity) are: 150 (12), 304 (24 plus seven extra chairs), 430 (16), 435 (10), 571 (5), 581 (10), 583 (10), 585 (10), 588 (10).