Zachry Event Management System
The Zachry Event Management System (EMS) allows faculty, staff and students from the Texas A&M College of Engineering to book space in the ZACH for study sessions, meetings, events, etc. The reservation website can be accessed anytime, from anywhere, both inside and outside the campus firewall, and on your mobile devices.
To access the Zachry Event Management System, please visit https://tx.ag/ZachryEMS.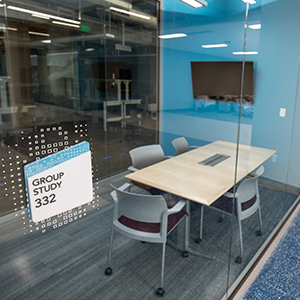 For instructions on how to use the Zachry Event Management System to book spaces, please see our Quick Reference Guide.
Important notes:
Do not reserve and block the rooms if you are not going to use those reserved rooms
In the event that a reservation becomes unnecessary, that reservation should be cancelled in a timely matter
End the meeting if you are not using the full reserved time
Do not misrepresent the reason for your usage of space
Do not misrepresent for whom you are reserving the space
Failure to follow these instructions may result in the denial of future room use
Learning Studios
Important Notes:
No food or drink allowed
First Priority is scheduled classes
Learning Studios are not always available for many reasons such as technology updates, facility repair, other preparation arrangements, etc.
Requests for Learning Studios can be submitted two weeks after the first class day of the semester
Engineering faculty, staff, and accredited/recognized student organizations can submit a reserve request for a Zachry Learning Studio
Individual Access is not granted to Learning Studios

Access is ONLY granted for scheduled events whereupon the doors are scheduled to "Open" and "Close" according to the approved request information
Include prep and tear-down/clean-up time in the time of your request
Ensure the doors are closed and everyone has left when your event is over

Capacity for the learning studios is 48 for a small learning studio and 96 for a large learning studio
Please check availability before submitting your request at http://bit.ly/ZACH-Schedule
Faculty/Staff Meeting Rooms
Important Notes:
Complete request form and email it to easa-zachrooms@tamu.edu for reserving faculty/staff meeting rooms that are not in EMS.
Faculty/Staff Meeting Rooms not in EMS (Capacity) are:

150 (12), 304 (28 + 12 extra chairs), 430 (18), 435 (10), 571 (6), 581 (10), 583 (10), 585 (10), 588 (10).